Overview
Heel pain is most often caused by plantar fasciitis, a condition that is sometimes also called heel spur syndrome when a spur is present. Heel pain may also be due to other causes, such as a stress fracture, tendonitis, arthritis, nerve irritation, or rarely, a cyst. Because there are several potential causes, it is important to have heel pain properly diagnosed. A foot and ankle surgeon is able to distinguish between all the possibilities and determine the underlying source of your heel pain.
Causes
The most common cause of heel pain is plantar fasciitis. Plantar fasciitis is a stretching of the plantar fascia, a ligament that runs from the ball of foot through the arch and is attached to the heel. It is that attachment which becomes aggravated and typically causes pain after being on your feet for lengths of time. Abnormal motion of the foot (pronation) is one cause of plantar fasciitis. Heel spurs, which are abnormal bone growths coming off the heel, can also cause heel pain. Other causes include repetitive stress or shock to the heel, standing for prolonged periods or osteoarthritis.
Symptoms
Sever?s Disease. This is a condition that occurs in 10 - 15 year old children, predominantly boys and is associated with running and repetitive jumping. It is also associated with flimsy footwear that kids may wear. It occurs when the Achilles tendon continually pulls on the apophysis of the calcaneum and does not allow for it to fuse with the body of the calcaneum. Calcaneal enthesopathy. This occurs when there is repetitive trauma at the attachment of the Achilles tendon, resulting in a spur from the calcaneum up into the Achilles tendon. It is usually visualized on x-ray and may be tender if there is an associated bursitis or tendonitis. "Pump Bump". Also known as Haglund?s Deformity, this is a bony enlargement that exists on the back of the heel - usually related to a congenital abnormality or with chronic bursitis, causing a thickening. There may have already been trauma or pressure from footwear. Treatment is usually protection of the bump and correct footwear. Associated with a symmetrical swelling at the base of the Achilles tendon. It is usually related to repetitive trauma or inappropriate footwear. It is often red and hot in the early stages. Treatment is usually to correct the footwear, provide padding and treat the local symptoms e.g. ice, rest, physiotherapy and cortisone injection. Fat Pad Syndrome. Direct contact with the base of the heel may result in trauma to the fat pad. Related to obesity, training on hard surfaces, uneven grounds, poor shoes especially overlarge shoes which can cause shearing forces on the heel. These conditions are renowned for taking a long time to recover - usually many months.
Diagnosis
Your GP or podiatrist (a healthcare professional who specialises in foot care) may be able to diagnose the cause of your heel pain by asking about your symptoms and examining your heel and foot. You will usually only need further tests if you have additional symptoms that suggest the cause of your heel pain is not inflammation, such as numbness or a tingling sensation in your foot - this could be a sign of nerve damage in your feet and legs (peripheral neuropathy), your foot feels hot and you have a high temperature (fever) of 38C (100.4F) or above - these could be signs of a bone infection, you have stiffness and swelling in your heel - this could be a sign of arthritis. Possible further tests may include, blood tests, X-rays - where small doses of radiation are used to detect problems with your bones and tissues, a magnetic resonance imaging (MRI) scan or ultrasound scan, which are more detailed scans.
Non Surgical Treatment
Treatment of plantar fasciitis is usually performed in stages according to the duration and degree of pain. Treatment may take many months if the condition has been longstanding. Treatment usually begins with anti-inflammatory medication, shoe modification, temporary limitation of activities, weight loss and heel cord stretching. Also, night splints are often helpful to stretch the plantar fascia. An arch support (orthotic) may also be helpful, especially if you have a flat foot. If the problem continues, the tender area occasionally may be injected with cortisone and a local anesthetic. For a difficult, chronic problem, a period of casting may be used to improve this condition. Surgical treatment is rarely needed. If performed, it aims to partially release the plantar fascia and stimulate healing of the chronic inflammation. Removal of a heel spur, if it is large, may also be done at the time of surgery.
Surgical Treatment
When a diagnosis of plantar fasciitis is made early, most patients respond to conservative treatment and don?t require surgical intervention. Often, when there is a secondary diagnosis contributing to your pain, such as an entrapped nerve, and you are non-responsive to conservative care, surgery may be considered. Dr. Talarico will discuss all options and which approach would be the most beneficial for your condition.
foot pain heel
Prevention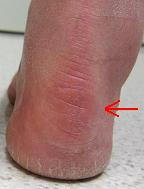 Wear shoes that fit well, front, back and sides and have shock-absorbent soles, rigid uppers and supportive heel counters. Do not wear shoes with excessive wear on heels or soles. Prepare properly before exercising. Warm-up before running or walking, and do some stretching exercises afterward. Pace yourself when you participate in athletic activities. If overweight, try non weight-bearing activities such as swimming or cycling. Your podiatrist may also use taping or strapping to provide extra support for your foot. Orthoses (shoe inserts) specifically made to suit your needs may be also be prescribed.